Becoming Raw!!
Posted by: Anonymous User ()
Date: February 23, 2009 09:07PM
Hello all...I am finishing up my first full day eating only raw foods. This is definitely going to be a challenge but I am enthusiastic about it. Writing this I feel outstanding. I ate lots of fruit and vegetables and tried my first green smoothie, I also drank A LOT of water. At no point during the day did I feel hungry, in fact I felt pleasantly full the whole day.
My reason for doing this is quite simple...my eating habits are simply not healthy. I am a 31 year old female and have always been overweight...this winter, however, I have been terrible with my eating habits and reached an all time high and am so ready to change my life! I gladly welcome any advice/support that anyone can give me. My plan is to read, read, read and learn all that I can to be successful in this new endeavor. Wish me luck!
Erin

Starting Weight: 245
Goal Weight: 150
Re: Becoming Raw!!
Date: February 23, 2009 09:56PM
Best of luck to you Erin! Welcome to raw food!
Re: Becoming Raw!!
Date: February 24, 2009 07:26AM
One of the best decisions of your life Erin. Remember, you won't always feel this euphoric, but raw foods will always be the best way to go to achieve your health goals. Here's wishing you total raw success!!!


Grace and Peace be multiplied unto you.



todd
2nd Day
Posted by: Anonymous User ()
Date: February 24, 2009 08:45PM
Good day #2...my students, however, think that I am absolutely insane.
Re: Becoming Raw!!
Date: February 25, 2009 09:27AM
Erin--
Congratulations on a great decision! You'll be so glad you made this move. Your students will look up to you later, when they see the stunning results. In the meantime, just smile to yourself, knowing you're on the right track.
:-)
Sharrhan
:

[www.facebook.com]
Re: Becoming Raw!!
Posted by: Anonymous User ()
Date: February 25, 2009 08:02PM
I had a difficult time sleeping last night due to a slight headache...it continued throughout the day but it wasn't unbearable...just there. I had to share my raw asparagus today at lunch, two of my students wanted to know what trees taste like!
Re: Becoming Raw!!
Date: March 02, 2009 12:19PM
haha kids are funny
keep yourself supplied with lots of produce so you dont get hungry ever .. headaches suck for sure.
wait till your students see some of your smoothies if you ever make them ... they can range in color from brite green to compost brown .. lol my hubby thinks they look gross but admits they taste great
...Jodi, the banana eating buddhist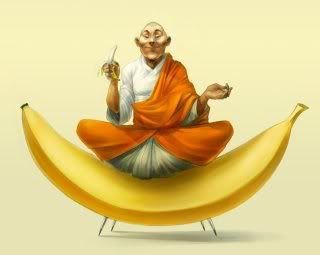 Re: Becoming Raw!!
Posted by: Anonymous User ()
Date: March 09, 2009 09:21PM
It's been about 2 weeks and all is well. I am really proud of myself and can feel a wonderful difference. I have lost 10 pounds and my energy is high. I also feel like I have been sleeping better than ever...good bonus. I have been playing it pretty safe with my food, smoothies for breakfast with lots of different things, fruits for snacks, cut veggies for lunch, afternoon fruit, and usually a big salad with lots of yummy things in it for dinner. My only slip ups have been sushi and Sunday family dinners (they were mostly raw though), but I feel okay about those. Now that the snow is finally melting and the temps are creeping above freezing I will be starting to get out and exercise more. This is the only "diet" that hasn't been stressful...it's a wonderful life change. I plan on becoming a little more adventurous with my food...the spaghetti made out of summer squash sounds great and I've always made and loved raw spaghetti sauce. This new experience is also inspiring me to start a garden...maybe. We'll have to wait and see! Have a wonderful day! Erin
Re: Becoming Raw!!
Posted by: Anonymous User ()
Date: March 25, 2009 08:38AM
Hello, hello! Today is a good day...I am wearing pants that I haven't fit into in 2 years. I love this feeling. My energy is high, my outlook is good, and I am so enthusiastic about my future. There have been 3 days in the past month that I have "messed up", but you know what? I am ok with that...my body gave me a natural consequence because I felt horrible after that. That's about it. Have a wonderful day! Erin
Re: Becoming Raw!!
Posted by: Anonymous User ()
Date: April 27, 2009 08:00PM
I haven't posted in a while but I am still going strong and enjoying the benefits of my new lifestyle. The sun has been out and it has been in the 80s for the past three days which definitely helps out the cause. Nice weather just begs you to be healthy! During the week I have been able to stay almost 100% raw with the exception of sushi once or twice a week, I love sushi and don't want to give it up! Weekends have been a little harder but I do great up until dinner. I tend to be away from home for most of the weekend which makes it harder. Even though I haven't been 100% raw over the weekends, I have been able to stay about 100% HEALTHIER than I have in the past. I still haven't gotten very adventurous with my food but I am saving up for a food dehydrator which I know that I would use and love. My blender seems to be working just fine for my smoothies for now. I have been tracking what I eat on dailyplate.com and I like keeping a record complete with calories and the breakdown of what is in the food. They even create little charts for you...just what this visual learner needs. This past weekend I was able to go golfing for the first time this year and I have been taking nice walks, although I know that it is time to step up the exercise. I just got off the phone with a gym and am meeting with them on Wednesday to set up a personal plan. They are conducting a 36 week weight loss study and need some participants...it means a lot of structure without a lot of money! Just what I was looking for. I am so excited. Thanks for listening. Erin
Re: Becoming Raw!!
Posted by: Anonymous User ()
Date: April 27, 2009 08:40PM
hi it seems like you are doing really well. Everyones journals on here are reminding me why I want to do this. Keep up all your good work.
Sorry, only registered users may post in this forum.