raw santa
Date: October 18, 2007 06:38PM
hi everyone!

Well its coming up to the festive season again, maybe the hardest event in the year to stay raw. I usually go back and see the parents in my birth town in Scotland; i am currently living in edinburgh. I really love going to see my parents but i know i will succome to the turkey, chocolates, whiskey and christmas pud! I don't miss these foods but being surrounded in tradition and habit there is no chance i will survive, don't get me wrong i am strong willed and have done many a fast etc.. but there is something different about the connection with old friends,family,turkey sandwiches and whiskey, LOL!

I am looking for a RAW crimbo!!!

If any body knows of a retreat or some where i could live for a couple of weeks over the festive i would be grateful?

I am a 29 years old male, about 90% RAw and looking to spread my wings. America,Canada would be nice, maybe some where warm.

If anybody has accomadation or could point me in the right direction that would be great. I will pay my way!

What does everone else do over christmas?Is there a raw recipe for turkey sandwiches,LOL!

David
Re: raw santa
Date: October 19, 2007 05:31AM
hey Dave .. christmas is a tough time indeed but do you really feel its necessary to distance yourself from you friends and family over food ? you seem to enjoy the poeple so much ..why make food such an important part of it?
no receipe for turkey sandwhich but i made some raw dehydrated crackers last year .. mixed them with cranberries and raisins and some savory herbs and rolled the mix into lettuce wraps and honestly they tasted like stuffing sandwhiches lol !
...Jodi, the banana eating buddhist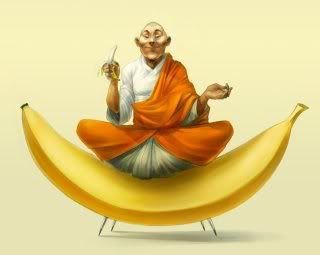 Re: raw santa
Date: October 19, 2007 03:31PM
I plan to feed the family what they want for the holidays and I plan to eat just the salads (fruit and veggie).

Good luck on deciding what to do for the holidays!
Re: raw santa
Date: October 19, 2007 04:15PM
Hi Dave6!

I have to agree with Jodi and Karennd - the most important part about the Christmas holidays is the time you spend with your loved ones.

Think about your own motivations - if you find you are not able to resist the traditional foods and drinks, then maybe there is a reason for that. Whatever it is, like David Mason says, there are no raw food police. If you eat something cooked, you can always re-connect with your raw ideals afterwards.

However, if you can stay focussed on the real value of this time together, ie, connecting with your loved ones, you might find that the food isn't all that important. Believe me, this time together is something to treasure - I'd happily give up all the food of the season raw or not, just to have some of the people we have lost back for one day to share the joy.

Sapphire
Re: raw santa
Posted by:
veganathlete
()
Date: October 19, 2007 04:37PM
This will be my first holiday season as raw. I know it is going to be tuff to be sitting at the table and seeing all my past favorite meals for Thanksgiving...but I am hoping that I will be able to stand strong. Whenever I am out with friends and I get tempted to eat cooked food, I just think of how bad I felt before being raw. I actually will probably help cook for my family (this may seem weird but I love cooking so if i cook for someone else it is easier for me to stay out of it...lol) My mom said she is going to make me a big salad for dinner and a fruit salad for desert...yummy. THere is no way that I would give up the time with my family because I am raw...there may not always be the time where I can sit down for a good Thanksgiving meal with my family and have my siblings give me a hard time for being raw...lol.
Good Luck with the holidays ;-)
Re: raw santa
Posted by:
diamond dave
()
Date: October 19, 2007 08:50PM
karennd Wrote:
-------------------------------------------------------
> I plan to feed the family what they want for the
> holidays and I plan to eat just the salads (fruit
> and veggie).


Ditto Ms. Karen. And I make the best holiday cookies called Snowflakes. I make a ton for family and friends. Just this year, I won't be enjoying any. No big!

Best of luck,

David
Re: raw santa
Date: October 20, 2007 03:24PM
I am hoping to have some sort of special raw food available for me but I am going to cook the traditional foods for christmass and thanksgiving and the cookies and pie. Maybe its time I figure out how to prepare a raw pie or something special. I think the holidays are important to share with the family the food is second.
Re: raw santa
Date: October 20, 2007 10:22PM
thanks for all the response.

For me going RAW is a must and not an option. I think i need to adjust mentally to this new way of living as physically it is easier to become raw than mentally. The only way i can enjoy life is to go 100% raw, i don't want to live like a zombie and there is know other option.

I don't know why other people go raw? health,mind,fad etc... but i feel so pressured! I am tired of every christmas coming along and i am still not being 100% raw.

Everything surrounding me is pulling me back to my old life pubs,clubs,eating out, friends,family, its like living in a foreign country!

I know being raw is the way forward and i don't want to make excuses but there is no other way to describe the feeling of isolation when you try to live raw.

Going from a very socialable lifestyle to entering a world were in stead of freedom you find rules.

I think what i need to do is move away i have always prefered the sun anyway,LOL! How do the rest of you manage, i mean do you have friends,family,meetings that do raw?

David
Re: raw santa
Date: October 21, 2007 04:16PM
Hi Dave6!

I can't help but notice that you make the whole raw foods choice sound so hard. Sounds like you will have to give up all the fun, and family time in your life and place yourself it a position that cuts you off from everyone in order to succeed. No wonder you are finding this so hard to do, from this viewpoint, I bet it is nearly impossible for you.

I do know what it is like to be the only raw foodist, and what it is like to sit down at a table with all kinds of cooked foods right in front of you and still make the right choices, I do it mostly every day, I even cook the food! But I don't like the idea of rules. I prefer to believe that the raw foods on my plate are better than the other options. But if the time comes that I look at the baked potato or whatever else is there, and I REALLY feel that it would be better for me to eat that, I will eat it, and I won't feel badly about it.

I guess I'm just not crazy about rules. As long as raw works for me, I will be raw. If I wake up tomorrow, and decide that a fast food diet would be better, then that is exactly what I will do. (What are the odds?)

Why can't you (or me, or any raw foodist) go to a pub with their friends? You don't have to eat or drink anything you don't want to. I socialize with whoever I wish and go where-ever I wish. Some of my friends love the fact that they can count on me to be the designated driver.

Your family and friends don't love you because of the foods you eat, they love you because of the person you are. Doesn't matter if you are raw or not, you are still the same person, and they know that. If they don't, you may just need to remind them. And hopefully, you will give them the same consideration to make their choices.

Sapphire
Re: raw santa
Posted by:
veganathlete
()
Date: October 21, 2007 05:19PM
Hey Dave6,
I also have to be raw due to some health problems - i really dont have much choice (i cant afford to cheat on cooked food). The first couple weeks it was really hard socially but now it doesnt really bother me.
I am only 19 in college and as everyone knows this is a time where you want to be social. I know no one that is raw or even vegan. I have to go to the cafeteria everyday with my friends and the only thing i eat is raw (salad and fruit bar). Especially with me being a college athlete, most people cannot grasp the concept of not eating pasta the night before the game (they dont understand how i get my nutrients)...so of course i have been given a hard time and so forth. Once most of them realized i was eating this way for my health and dont have much choice they pretty much leave me alone. They still joke all in fun but I have to make sure i have a sense of humor, too. I love tomatoes and one of my friends always says "If I see you eat another tomatoe, I am going to barf." I just joke right back with them. I use to try to avoid gatherings that revolved around food but now I will just eat before or bring some fruit or a smoothie to eat. The greens smoothies always groses everyone out...lol. And as far as alcohol, most people know that I dont drink and they dont even offer me any - they will offer me water (and even if they dont know - no one as ever been offended from me saying no thank you). I really dont worry about it now - I even cook food for my friends and family. I dont let being raw hinder my social life what so ever. I figured out it kind helps me to stay raw being around people because i know if i slip up and eat cooked food then people are not going to take me seriously about my raw lifestyle (if that makes sense).
Well, I know what it is like and I hope that you are able to find content with doing what is best for your body. Sometimes just a little explanation on why you are raw to your friends and family can go a long way instead of trying to hide it. There is no reason to hide it - people on other diets dont (for example: diabetics). This is your health - not just a stupid diet. Good luck during the holidays
Re: raw santa
Date: October 22, 2007 10:29AM
dave6 Wrote:
-------------------------------------------------------
> I think what i need to do is move away i have
> always prefered the sun anyway,LOL! How do the
> rest of you manage, i mean do you have
> friends,family,meetings that do raw?
I know what you mean! For me this happened by chance, about 6 months after I went raw I moved (to a different country) and started a new life. Most of my friend now are raw, my landlord is raw. I hardly ever find myself around cooked food!
Rob
--
Rob Hull - Funky Raw
My blog: [
www.rawrob.com
]
Sorry, only registered users may post in this forum.