I make this delicious salad so many times that even my 7 yo daughter knows how to make it. It is made with pineapple and marinated in pineapple juice which causes the other fruit to take on a slightly tangy flavor. I love to eat it as a desert or snack whenever I'm in the mood for something with a lot of flavor. Friends and family are constantly asking me to bring it to BBQs as a desert as well!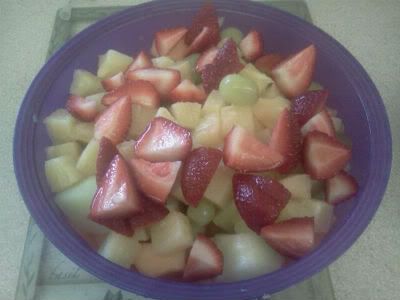 Luau Fruit Salad
Ingredients:
2 cans pineapple chunks in pineapple juice*
1 canteloupe
1 honeydew
1 small container of strawberries
1 bag grapes
Directions:
1. Open up one pineapple can and pour juice into a cup. Pour the pineapple chunks into a large bowl.
2. Cut up honedew and canteloupe into small chunks and put them ontop of the pineapple in the bowl. Mix up the two melons if you can, if not it's OK. Pour the pineapple juice over the melons.
3. Open up the other can and pour out the pineapple juice into a cup. Pour the pineapple chunks over the melons.
4. Cut up the strawberries in whatever manner you prefer (I tend to do them in 4ths). Add the strawberries and grapes to the bowl. Pour the pineapple juice over the entire salad.
5. Let marinate for at least an hour or two before serving. It's best if you can manage to marinate it for 12-24 hours before serving. The longer it sits in the pineapple juice the deeper the flavors.
*NOTE: you can use a fresh pineapple. Only reason I don't is for convenience. Also, using the juice seems to help with the flavor.