This is one of my "stone soup" kind of meals. There are so many different veggies you can put in this dish. I usually use just whatever I have on hand.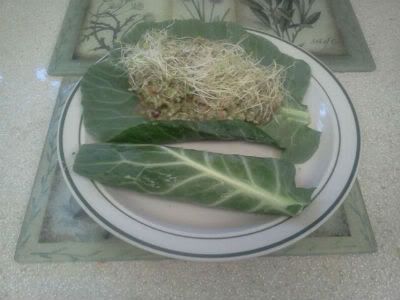 Ingredients:
Collard green leaves
zucchini
broccoli
sliver of red bell pepper
apple
cucumber
carrots
tomato
These are the ingredients I put in mine. I like to add a sliver of bell pepper to things like this to at a little kick
Just take your ingredients (except the collard greens) and either chop them up yourself or use a food processor. It comes out great either way!
Put your mixture of veggies onto the leaves. I usually cover them with some sort of sprouts. Then you wrap it up like a burrito or whatnot and there you go!
*hugs and blessings*
Jayelle