Here is something I love to make to bring to potlucks. Even my friends and family who aren't vegan/vegetarian love them. They're easy to make and can be made with whatever veggies you wish.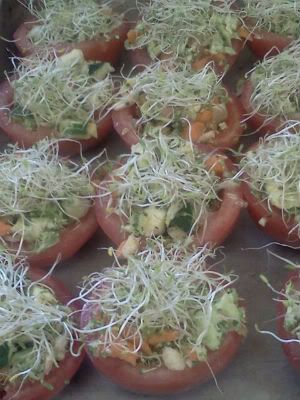 This is how I made the bowls you see in the photo...
Ingredients:
8 tomatoes
1/2 yellow squash
1/2 zucchini
1/4 cucumber
2 medium sized carrots
1/3 cup broccoli
sprouts
Directions:
1. Cut tomatoes in half and scoop out the insides. Lay out with outside part down.
2. Dice veggies. I use a food processor for this but you can do just as well using a knife and mix the diced veggies together.
3. Fill tomato bowls with the veggie mixture.
3. Top with favorite sprouts.